~ Allez Cuisine! ~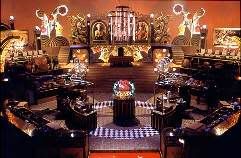 Photo Credit: The Food Network

THE IRON CHEF
in my opinion, is the best show on
The Food Network
. I am not much of a cook, although admittedly, I have been more into it as of late. I can make a few really good dishes. I mostly eat out, I am not one to prepare awesome food for just myself. I'd prefer to do it for a boyfriend, but alas, I currently do not have one. I was looking forward to cooking for C, but when I went to visit him in Los Angeles, he did not have a stove. Sigh. So, I never got the chance to cook for him.

For those of you who do not know what
THE IRON CHEF
is, I urge you to watch it immediately. It is so entertaining! The program is a Japanese program, but for the Japanese neophytes, it is dubbed in English and also has subtitles.

Essentially, the program is about four Master "Iron" Chef's (
Japanese
,
Italian
,
Chinese
,
French
) being pitted against a "Challenger". The Challenger picks which Iron Chef they want to do battle with.
The Master of Ceremonies (Kaga)
then announces what the secret ingredient is, a.k.a. "allez cuisine!" Both chef's then see what the secret ingredient is when Kaga unveils it, then have one hour to prepare their dishes for judging.

To learn more about the show, please click here:
THE IRON CHEF


I absolutely love this show! It is so crazy, especially Kaga. You'll see what I mean when you either click on the links or watch the show. Tell me what you think.