~ The Olympic Joint ~
2004 OLYMPICS - ATHENS, GREECE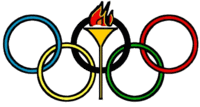 CNN - Opening Night:
http://www.cnn.com/2004/SPORT/08/13/olympics/


Okay, it can't just be me who thought the Athens Olympic torch lighting ceremony looked like a joint in a roach clip. Did you notice that as well? Look at the picture of the flame holder and tell me that does not look like a joint/roach clip!? And no, I am not a
stoner
.

Hm. I have been searching for a picture (of the flame holder/joint) for the past half hour on Google and I can not find one! As a matter of fact, I can barely find ANY images from the opening ceremonies! Just a couple, but not even what I would consider the highlights. WEIRD. I wanted to find an image of that woman's glowing belly as well. Then it dawned on me....apparently this Olympic really isn't that big of a success (as so far). There are so many
empty seats
in nearly every event that I have watched! Again, WEIRD. Is it because of potential terrorist threats? Poor PR from the Greeks because it took them so long to build?

This journalist from the Sun Times lists possibilities as to why the numbers for the Olympics are just not happening. Olympics on Tape Delay:
http://www.suntimes.com/output/roeper/cst-nws-roep17.html
Good heavens! After an hour of searching on Google, six pages in, I FINALLY found
a picture of the Olympic Torch
. Of course, it isn't that big and not in an angle that proves my point, but none the less, this picture is going to have to do for now. By the way, the only hitch in the opening ceremonies according to one of the news reporters was that the flame actually blew OUT a little while after it was lit! LOL I guess next time they have to go for a little Maui Wowie instead.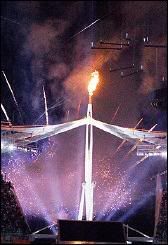 "Whoa dude! Let's go party in Greece!"