~ SAW ~
I spent the past two hours reading other blogs on Blogger. So far, I am not impressed. Way too many, and way too many from young writers. Can you even read what they type with the "bz" and "haz" type of writing. Annoying. Ah well, I suppose writing one's interest at whatever age is a good thing. Better to create than be destructive and take drugs.
I just feel rather alone. I recently turned 37 (my birthday is July 12th), but look like I am in my 20's. Offline, I attract young men. Online, I attract men older than me. I've already been in a relationship with a man 14 years older than me (when I was in my early 20's). I do believe that caused me to be in the situation I am today. Perhaps one day I will blog about it. Do I have regrets? Yes, I do. But at the same time I don't. It (the experience) has made me who I am today.
Back to what I originally wanted to blog about. I was reading another blog (sorry to the blogger, I do not remember your blog otherwise I would have credited you) and he had a link to this movie: SAW. Mucho scary movie and I love scary movies! Best yet? CARY ELWES! Now, I am not usually star-struck nor have movie star crushes, but I have had a crush on Cary Elwes ever since THE PRINCESS BRIDE came out. He basically has been in crap movies since and has gained weight, but I don't care, Cary rocks! He can "as he wishes me" anytime!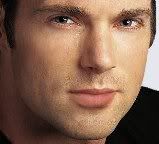 Why is Michael Shanks AND Cary Elwes married when they belong to me?
Another crush of mine? Michael Shanks from Stargate: SG 1. Oh, that is a story in itself. So much to blog about, so little time. Well, in my case I do have time (I am currently unemployed), I am just lazy in putting my thoughts down on e-paper. Admittedly though, with this blog, I am doing MUCH better than my previous. Angell should be proud of me.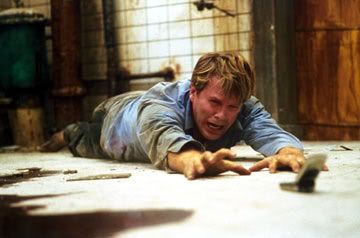 Poor Cary, he forgot to call me so I had to chain him up.
"SAW"
Synopsis: Adam (Leigh Whannell) suddenly wakes to find himself chained to a rusty pipe. Chained to the opposite side of the room is another bewildered captive, Dr. Lawrence Gordon (Cary Elwes). Between them is a dead man lying in a pool of blood, holding a .38 in his hand. Neither man knows why he has been abducted. Their only chance is to work together, decipher the clues, and hope that the "Jigsaw" killer has given them enough time before they are forced to kill each other.